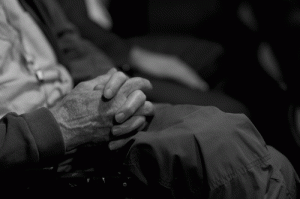 I'm re-posting this poem given that Seamus' died a couple of weeks back (apparently).  I remember this Mid-Term Break poem knocking the the wind out of me quite literally when I first read it in English class all those years back:
'Wearing a poppy bruise on his left temple,
He lay in the four foot box as in his cot.
No gaudy scars, the bumper knocked him clear.
A four foot box, a foot for every year.'
So I rewrote it as well, just a few small changes.  It's probably not finished, might never be.  I'm no Seamus Heaney, but that's ok too.  The poem is about a time I was working in the hospital as a Social Worker and met a man who had a terminal diagnosis of Motor Neuron Disease.  There was a real reluctance to tell him the truth about his diagnosis and also a perception that he had to be left with some hope.  This whole event got me thinking about how we are all moving forward in hopeful anticipation of something better then what is but we somehow never arrive and it had me wondering if there wasn't a gift in the heart of hopelessness that could somehow set us free.
Tilth
I sat with him daily.
He shared memories of
working land with horse and plough.
His hands trembled but it wasn't hard
to imagine them guiding the coulter
in a furrow he'd get lost in.
I left a copy of Heaney's poem on his bedside locker,
another memory of turning ground. Later he thanked
me and told me he liked it,
told me he had started falling over,
again and again until he had landed here
confused, on crisp white linen
while they scurried round him doing
Things like take his temperature.
He couldn't see them dance around
his diagnosis, always waiting for some results.
One morning, I was told he'd cried
all night after the doctor finally told him.
Oh he'd have no hand in harrowing,
so back again to leave him with a gentle lie:
'There's always hope.'
But Tilth is not concerned with closing broken ground.
So I sat with him for the last few days
and the feeling sat with me,
that hopes a thief when we feel tightly bound
in he that hears the sweet soft dying sound.