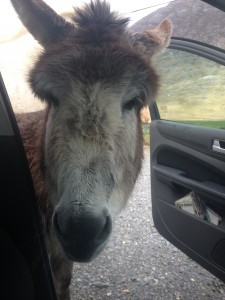 Some months ago now I had the pleasure of bringing Charles and Boris from the the dream bus (http://www.whosdrivingthedreambus.com), to Connemara for a few hours. We spoke about another perception, about seeing life as it really is- boundless and complete. We discussed how amazing it is when there is a falling out of the false centre of 'me' in that it is seen that there is no repetition, everything is new and in absolute free fall. The mind's wish for repetition to comfort and protect the bubble of the apparent separate person is suddenly gone and what appears to happen continually surprises.
Anyway, not long afterwards, a donkey tried to get into my car and when that didn't work he decided to give some cover cover for a friend of his-a small white horse, you can barely make him out-to take a bite out of my car door. Now if that is not a good example of free fall I'm not sure what is!!
Free fall meetings to start up in Galway in the new year. details on homepage.